Viewpoints AI
Brian Magerko, Mikhail Jacob, and members of the Adaptive Digital Media Lab at the Georgia Institute of Technology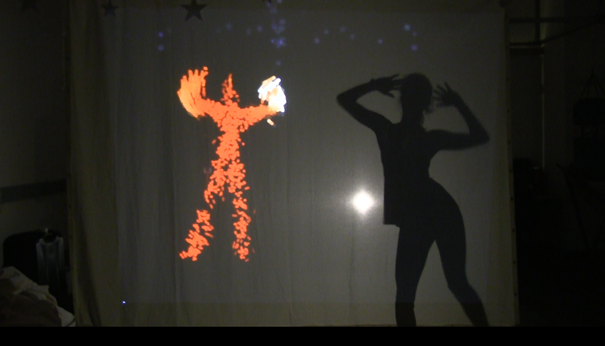 The

Viewpoints AI

installation is an interactive movement-based generative art experience that is absent of any pre-defined instantial content. As opposed to focusing on designer-created content that reflects their specific view of an experience, we have instead created a movement-based play space where interactors can freely dance and move with a virtual AI-based character named

VAI

. VAI analyses interactor movements through procedural representations of the

Viewpoints

movement theory (from theater and dance) and improvises responses from transformed memories of its past interactions with people. VAI uses this procedurally and experientially realized content to present an engaging movement-based installation that any audience member can walk up to and immediately begin playing with.

The Viewpoints AI installation uses shadow play as inspiration for creating a liminal space for the projected AI character and an interactor's shadow to co-exist within the same real / virtual 2D frame. Interactors step in front of a spotlight that projects their shadow onto a large muslin curtain. VAI is in turn projected onto the same space. Viewpoints AI builds on old and new media forms, creating an experience that is a playful - but coherent - expression between both the interactor and VAI.

Dr. Magerko is an Associate Professor of Digital Media at Georgia Tech & head of the Adaptive Digital Media (ADAM) Lab. He received his B.S. in Cognitive Science from Carnegie Mellon (1999) and his MS and Ph.D. in Computer Science and Engineering from the University of Michigan (2001, 2006). As director of the ADAM Lab, his work explores the intersection of creativity, cognition, and computing. This research leads to studying creativity and human cognition, building artificial intelligence that can creatively collaborate with human users, and the use of human creativity as a gateway to better understanding how to effectively teach computing skills. Much of this work results in cutting edge digital media experiences in digital games, AI-based interactive narrative, and educational media.

Mikhail Jacob is a Ph.D. student at the Georgia Institute of Technology. He received his B.E. in Computer Science Engineering from Manipal Institute of Technology in 2011, and his M.S. in Computer Science from the Georgia Institute of Technology in 2013. He has developed AI-based technologies in areas such as pretend play, improvisational dance or movement, improvisational theater, visual art and procedurally generated video games. He is interested in researching socio-cognitive models of creativity in artistic or expressive domains and his current research is on computationally modeling pretend play with objects and toys. His work has been featured at venues such as the Tech Arts Festival at Georgia Tech, the DAEL Window Project in downtown Atlanta, the Autumn School on Computational Creativity in Porvoo (Finland), the Georgia Game Developers Association in Atlanta, and at the 2013 AAAI AI and Interactive Digital Entertainment conference.