Civilian Analogs of Army Tasks
Andrew S. Gordon, Catherine Wang, Matt Bosack, and Jessa Sininger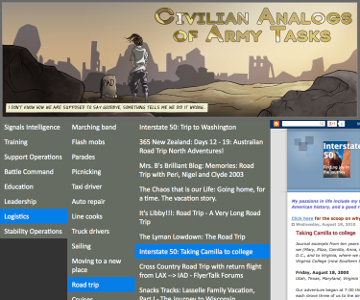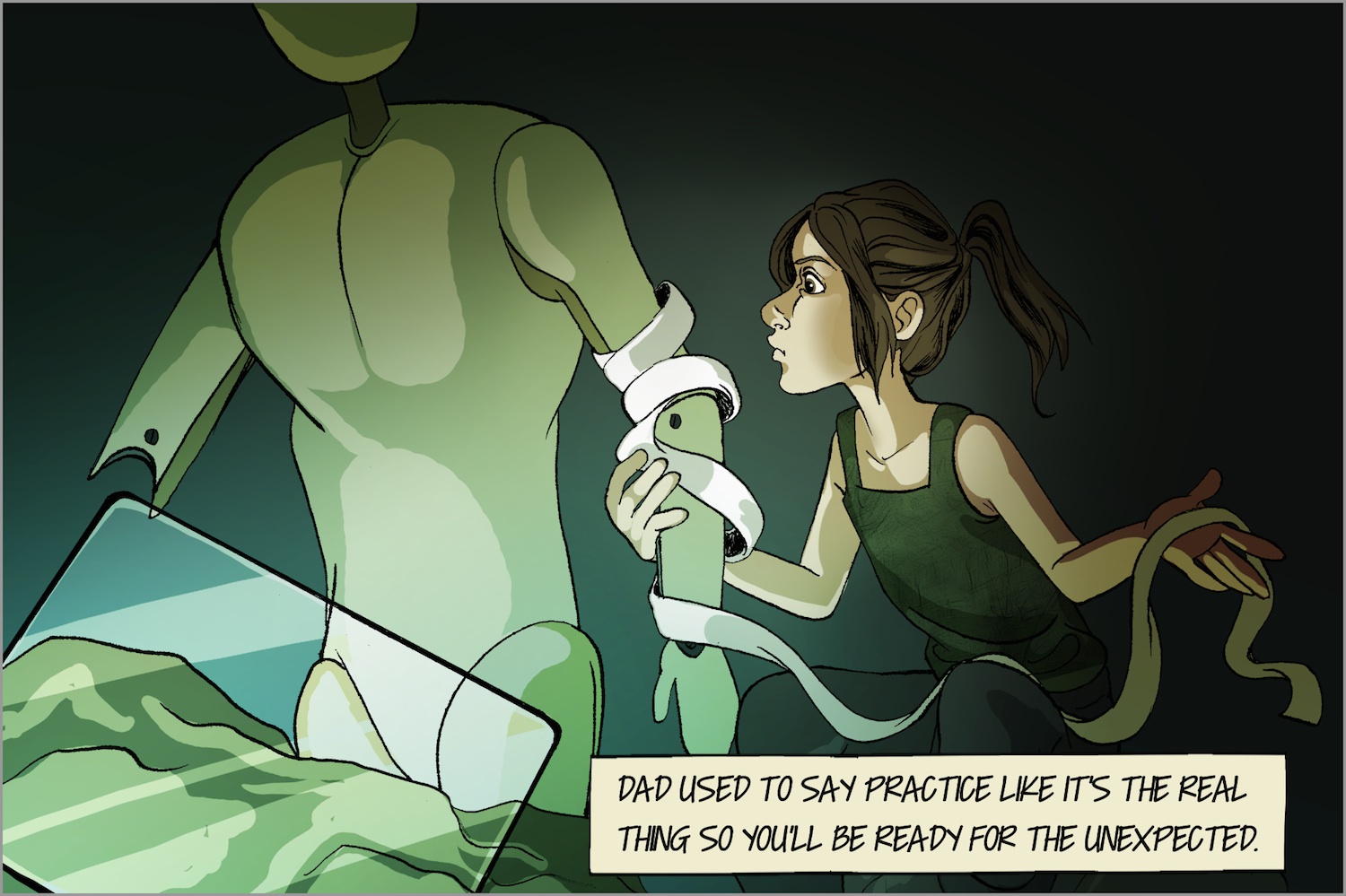 Over the last decade, millions of people have used their public weblogs to tell personal stories about their life experiences. Often intended only for close friends and associates, publishing these stories on the web affords storytelling across enormous distances and time to unimagined audiences, who learn from the experiences narrated in these posts and apply their lessons to their own situations. This artwork, entitled "Civilian Analogs of Army Tasks," challenges the audience to consider the longevity of these personal stories, and what their collective wisdom offers for audiences far away in time and space.
The piece consists of two main parts. First, through the medium of a digital graphic novel, it tells the story of a post-apocalyptic future where a dying father and his young daughter survive in a bomb shelter under the rubble of a drive-in theater. Second, through an interactive browser application, and a mouse interface, museum patrons navigate high level categories of military relevance, including "Battle Command," "Stability Operations," and "Leadership." For each, they are presented with lists of civilian activities with overlapping skill sets, e.g. "firefighting," "construction work," and "sports refereeing." In turn, each of these is linked to lists of weblog posts that tell personal stories about these activities, written by real people. In all, 1,425 stories are organized into 102 civilian activities, and eight high level military concerns. These stories are displayed as they appeared on the web in 2014.
Andrew S. Gordon is a Research Associate Professor of Computer Science at the University of Southern California's Institute for Creative Technologies. He leads interdisciplinary research on storytelling and the human mind, exploring how people experience, interpret, and narrate the events in their lives. A central focus of his research is on the abstract knowledge that enables interpretation of experiences, including the expectations that people have of everyday activity contexts and the commonsense theories that people have of their own psychology. In support of his research goals, he has pioneered methods for collecting and analyzing personal storytelling on a massive scale, identifying tens of millions of narratives posted to Internet weblogs.
Catherine Wang is a rising senior at the University of Southern California, majoring in Communication with a minor in Natural Science. Currently, she is investigating diversity in popular films as a participant in the inaugural internship program at the Media Diversity and Social Change Initiative. She also writes for Asia Pacific Arts Online Magazine, covering Asian and Asian-American arts and entertainment. She contributed to the Authoring Realistic Learning Environments with Stories (ARLES) project at the USC Institute for Creative Technologies by identifying civilian tasks and collecting weblog posts.
Matt Bosack is a professional screenwriter who writes for projects at the University of Southern California's Institute for Creative Technologies (USC-ICT) as well as for the entertainment industry. After graduating from UCLA in 2007, he began his career with the ICT where he wrote for films, video games, and other multimedia. He has since earned a Master's of Fine Arts degree from the University of Southern California's prestigious Writing for Screen and Television Graduate Program, where he graduated with distinction, and gone on to write feature and short films on assignment in Hollywood while continuing to write for ICT's projects. He has been nominated for various writing awards, including the HUMANITAS New Voices prize.
Jessa Sininger is an artist, animator, and writer currently working in media/film. She has contributed to feature films, television, and video games. Some of her credits include Tim Burton's Alice in Wonderland, Night at the Museum: Battle of the Smithsonian, and Gears of War 2. She has had her poetry published internationally as well as aided in story revisions for short films. She currently produces her own comics on the side with an emphasis on character growth. She received her Bachelors of Science in Media Arts and Animation degree from The Art Institute of California–Orange County in 2007.