daddylabyrinth: a digital lyric memoir
Steven Wingate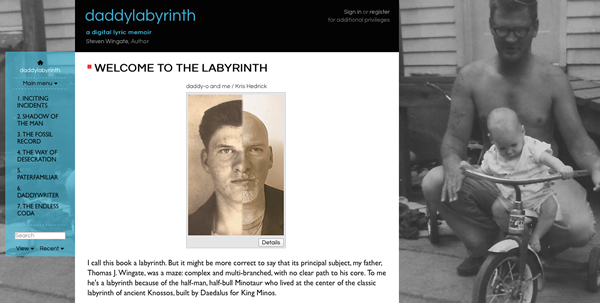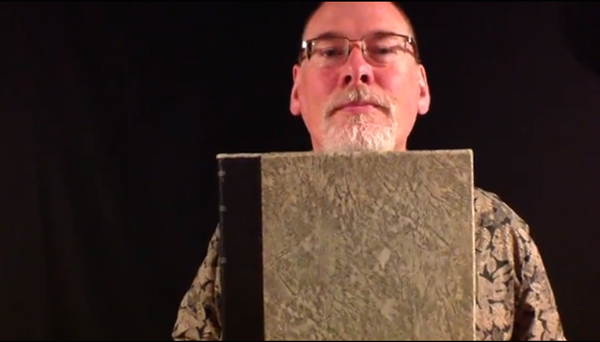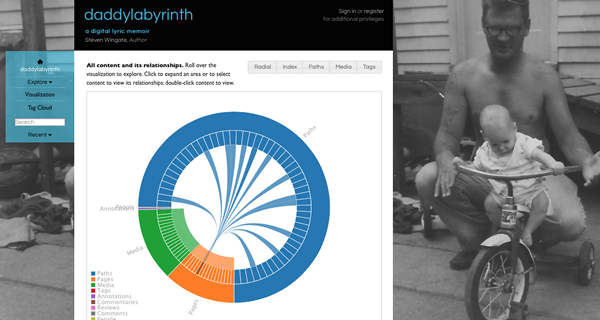 daddylabyrinth

is an interactive memoir, a combination of traditional writing and personal video assembled and delivered through the authoring system SCALAR http://scalar.usc.edu/scalar/.

daddylabyrinth

exists at the cusp of several forms—the lyric essay, the archive, the family history, the home movie—and delves into questions that shape our contemporary narrative practices, such as navigational readership and new ways of experiencing the cinematic.

daddylabyrinth is a father/son book, in a long tradition of such, refracted through the lens of new media's narrative possibilities. I carry two sets of legacies from my late father: a selection of objects he left behind and a flotilla of unresolved emotions that continue to vex my self-identity nearly forty years later, when I am a father of two sons myself. These legacies have become inextricably bound, and the stories that I weave from them resist any single linear narrative.

I turned to SCALAR for daddylabyrinth because it allowed me to create multiple, interlocking narrative lines, through which I could explore interrelationships between objects, incidents, and impressions—ranging from objects of my father's that I've given my children to ways that he has shown up in my fiction.

Working in authoring systems like SCALAR promotes what I call "synaptic writing": a spontaneous connection of narrative nodes that mirrors the polylinear functions of the human mind. It shifts the responsibility of authorship away from creating a coherent but ossified mononarrative and toward enabling a multiplicity of unique interactive reading experiences.

www.daddylabyrinth.com is the preferred public "entryway" to the work.

http://scalar.usc.edu/anvc/daddylabyrinth/index is the direct link to the SCALAR site.

daddylabyrinth trailer from Steven Wingate on Vimeo.

Steven Wingate is a multi-genre author whose work, ranging from fiction to criticism and digital media, includes the award-winning short story collection Wifeshopping (2008) and the prose poem collections The Birth of Trigonometry in the Bones of Olduvai (2013) and Thirty-One Octets: Incantations and Meditations (2014). His print work has appeared in such journals as Mississippi Review, Gulf Coast, American Book Review, Witness, and Puerto del Sol. He earned an MFA in Film/TV from Florida State University and is now an assistant professor of English at South Dakota State University.