Tracing the Decay of Fiction: Encounters with a Film by Pat O'Neill (2002) Pat O'Neill, Rosemary Comella, Kristy H.A. Kang, Marsha Kinder and The Labyrinth Project.
Produced by The Labyrinth Project - an art collective and research initiative on interactive narrative directed by Marsha Kinder at the University of Southern California School of Cinematic Arts.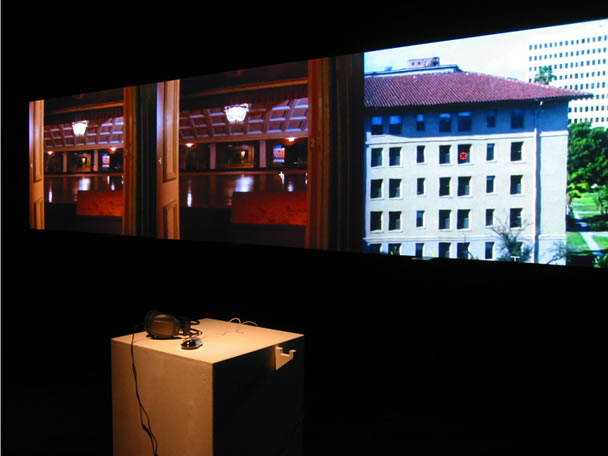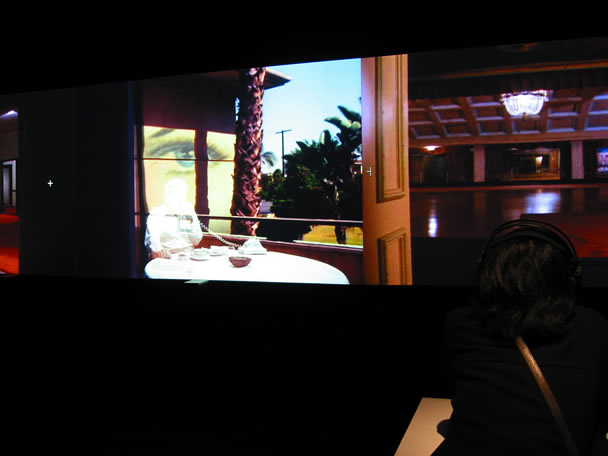 Based on footage from Pat O'Neill's 35 mm film, The Decay of Fiction (2002), the interactive installation Tracing the Decay of Fiction is an archeological and narrative exploration of the Hotel Ambassador, a vintage building now demolished that was erected in 1920 and played a crucial role in the development of Los Angeles. Well known for its glamorous Cocoanut Grove nightclub where Hollywood stars and movie moguls mingled with foreign dignitaries and wealthy tourists, this hotel was also the site of a major trauma in Unites States' history -- the 1968 assassination of Democratic Presidential Candidate Robert Kennedy. Visitors wander through these abandoned rooms encountering cultural traces of the historical events and personal stories that occurred there. Inside the Ambassador, borders blur between past and present, history and fiction.
As viewers explore this interactive space, contemporary images are combined with dialogue from vintage movies and radio dramas, and modern voices are paired with period prints and newsreels. At other times old and new images are inextricably fused, as if ghostly figures and voices lie deeply embedded within the hotel's decaying surfaces. Once outside the hotel on the city's celebrated "Miracle Mile," a stark contrast emerges between archival stills and contemporary digital footage of the neighborhood around the hotel.
Labyrinth's Marsha Kinder invited Pat O'Neill to collaborate on a DVD-ROM and installation that would explore the possibilities of interactive cinema. Since he was already in the early stages of shooting a new film called The Decay of Fiction, they agreed to produce an interactive version simultaneously. Though the DVD-ROM uses O'Neill's footage, it has an entirely different structure and includes additional archival materials and cultural commentaries that are not in the film. Rosemary Comella and Kristy H.A. Kang, Labyrinth's co-directors on the project, created a unique interface that enables visitors to explore this rich narrative field.
Executive Producer:
Marsha Kinder, an Emerita University Professor, joined USC's School of Cinematic Arts in 1980, where she published over one hundred essays and ten books, including Blood Cinema, Playing with Power, and Transmedia Frictions. In 1997 she founded The Labyrinth Project, an art collective and research initiative on database narrative, producing (in collaboration with Rosemary Comella, Kristy Kang and Scott Mahoy), award-winning DVD-ROMs, websites and installations. Her latest project, Interacting with Autism, is a video-based website produced in collaboration with Oscar-winning documentarian Mark Harris. Retiring from teaching in 2013, Kinder is now writing a book titled Narrative in the Age of Neuroscience.
Artists & Co-Directors:
Pat O'Neill has been deeply involved in Los Angeles culture since the late 1960's. A founding father of the city's avant-garde film scene, an influential professor at CalArts and an optical effects pioneer, he is best known for his short works from the early 1960's onwards which are highly graphic, layered and reflexive assemblages based on a mastery of optical printing techniques. Several of his many avant garde films produced between 1963 and 2006 are considered classics (especially "7362" (1967), "Runs Good" (1970), "Saugus Series" (1974), "Water and Power" (1989, "Trouble in the Image" (1996), and "The Decay of Fiction" (2002). Throughout his career he has gained an international following with recent retrospectives shown at the Tate Modern, the Whitney Museum, and the Centre Pompidou.
Kristy H.A. Kang is a media artist and scholar whose work explores intersections between urban space and narratives of identity and cultural memory. Her works have been exhibited internationally and received awards including the Jury Award for New Forms at the Sundance Online Film Festival. Her research interests include digital media arts, animation, and transnational media studies. She received her Ph.D. in Media Arts and Practice at the University of Southern California School of Cinematic Arts and is currently Associate Director of the Spatial Analysis Lab at USC's Sol Price School of Public Policy. Here she collaborates with urban planners and policy specialists on ways to visualize overlooked spaces and peoples.
Rosemary Comella, a new media artist and scholar, worked at The Labyrinth Project as a researcher, interface designer and programmer between 1999 and 2012. There she co-created many interactive cultural projects dealing with space and place. She developed the main navigational interface for "Tracing the Decay of Fiction: Encounters with a Film by Pat O'Neill". Currently, Comella is developing a transmedia participatory project on a working-class city in the San Francisco East Bay, Hayward, that deals with its identity in relationship to Silicon Valley and the diversity of its neighborhoods, which by some measures are the most ethnically diverse in California.
The Labyrinth Project is an art collective and research initiative on interactive narrative at the University of Southern California's School of Cinematic Arts. Under the direction of cultural theorist Marsha Kinder since 1997, Labyrinth has been working at the pressure point between theory and practice. With media artists Rosemary Comella, Kristy H.A. Kang and Scott Mahoy working as creative directors, Kinder and her collaborators have been producing award-winning multimedia projects that juxtapose fictional and historical story elements in provocative ways. In the process, Labyrinth has invented a new form of digital scholarship combining archival cultural history and artistic practice. Their "database documentaries" animate the archive and make history come alive for a wide range of audiences.
Labyrinth designs their interactive works as transmedia networks—installations, DVD-ROMs, and websites. Their projects appear not only in cyberspace but also in the networked public spaces of museums, science centers, and other public venues.